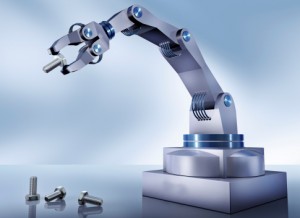 As manufacturers look to improve productivity and support growth, many are discovering that automating certain aspects of production yields significant improvements in return on investment (ROI).
Robotics is one of the fastest growing forms of automation. Falling cost of entry, improved safety and technology, and the potential to avoid labor-related bottlenecks all make robotics an increasingly attractive proposition for many manufacturers. As a result, experts expect to see investments in industrial robots leap from around 2% per year to as much as 10% annually over the next decade.
Falling prices, rising ROI
Boston Consulting notes that costs of robotics such as automated welders have fallen by tens of thousands of dollars in the past 10 years — and are likely to drop by as much again in the next decade, according to a recent issue of Industrial Distribution. With a low cost of entry for many new models, continuous operation capabilities, and increasing power efficiency, robots make sense financially.
Increased functionality further increases the ROI for such products. Unlike older robots — which were limited in their capabilities and even dangerous to work around — today's robots are agile, precise, easy to program and repurpose, and can work alongside humans. Many use advanced sensors to sense and react to other machines and humans working in the same area. Some offer an effective way to keep production flowing in process areas that are dangerous or difficult for human workers to fill.
Know your needs
With the potential to see positive ROI in less than a year, robotics make sense. Still, it's important to have a clear understanding of what you want to achieve through the use of robotic devices. The experts at Richard Greene Company can help you evaluate your production line and discover where robotics can deliver the best results at the right price.
Robotics and other automation systems offer solutions that can give you a competitive advantage. Contact the experts at Richard Greene Company by phone at 800-525-4039, by email at sales@rgreene.com, or on our website to find out more about how robotics might benefit your company.