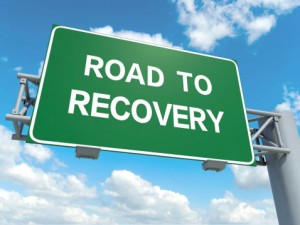 Is the recovery going strong, or is it still just crawling along? The answer depends on who you talk to — but in general, the reports of recovery are finally bearing fruit. What does that mean for you? Well, if you're like most companies, it means working with other businesses that can offer solid, expert advice to help you navigate the early stages of the recovery and make the most out of it.
A turn for the better
The Institute for Supply Management (ISM) noted in its February 2015 report that PMI decreased 0.6% from January. However, 12 industries, including primary metals, miscellaneous manufacturing, fabricated metal products, machinery, and electrical equipment reported growth.
Even though the economy has been on the uprise since 2009, people are just now discussing growth and the changes in employment levels that must be made to compensate for accelerated demand. That's a good sign.
Naturally, the situation varies from industry to industry and region to region. But today, we see the companies we work with
adding employees and shifts,
adding products and increasing production, and
adding automation, upgrading equipment and systems, and streamlining operations.
Over the past few years, investments have been very cautious. But now, companies are ready to tackle the projects and upgrades that they've put off for several years. They're excited about improving productivity and growing their businesses — but even growth has its challenges.
The challenges of success
When business is slow and demand is low, it can be difficult to justify the expense of a product improvement or solution upgrade. But when business picks up and the project becomes affordable, you are faced with a different issue: finding the time to slow or halt production when business is suddenly booming.
Furthermore, companies want to see real, concrete ROI before taking on new products. People are still cautious — and while they're willing to talk about expansion and launch projects, they're still looking for a partner that can produce the most bang for their buck. We work with customers to predict and prove out that return; otherwise they won't do it, and I don't blame them.
It can be difficult to prioritize that list of projects that have been put off for a long time. What equipment offers the best ROI? What's the most effective way to implement the solution? When every project is important, how do you choose?
Richard Greene representatives have deep and diverse experience with the solutions that we provide. We can help you find creative, custom solutions by starting with the big picture. What are your business goals? Where do your biggest needs lie? From there, we work closely with your engineers and team members to create a strategy that will deliver the best possible ROI. And to help you make informed choices, we provide documentation and proof-of-concept when needed.
Don't forget the follow through
Follow through is critical to success. We pride ourselves on being there as a resource for our customers, from selecting a solution to sourcing, implementation, and fine-tuning. But ultimately, your engineers are the ones who must live and work with solution. That's why we also provide training and complete follow through to ensure that your team and end users fully understand the solutions and can use them to their full potential.
If you're feeling pressure to get going on the projects that will improve your production processes, a sound strategy and a capable partner can help ensure that you see success and value. It's time to get excited!
Learn more about planning and prioritizing new or upgraded products and solutions. Call us at 800-525-4039, email us at sales@rgreene.com, or visit our website.