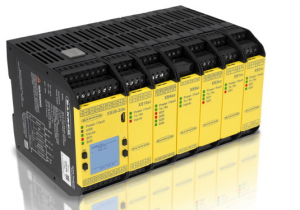 In assembly operations, safety comes first. But large, complex operations often seem to have more safety controllers than processes!
The problem is that many controllers are designed to perform just one function: two-hand control, gate monitoring, muting, and so on. And the more units involved, the greater the clutter. Simple things like wiring become a hazard and multiple controllers can get expensive, fast.
Solve by simplifying
Banner's XS26-2 Expandable Safety Controller offers a solution. With up to 8 expansion I/O modules, the XS26-2 lets your safety grow with your automation — without adding units and wires. You can choose from six expansion module models, and the controller works with multiple safety devices, including but not limited to:
Emergency stops
Gate switches
Two-hand controls
Safety mats
Rope pulls
Bypass switches
The controller's live display and diagnostics provide active monitoring and make troubleshooting a snap. And the configuration software is straightforward and easy to use. In just 12 pages, the product Quick Start guide can have you up and running in minutes!
Want more information? These videos show how easy it is to work with this Banner controller.
Learn more about the outstanding products that we represent. Contact the experts at Richard Greene Company by phone at 800-525-4039, by email at sales@rgreene.com, or on our website.