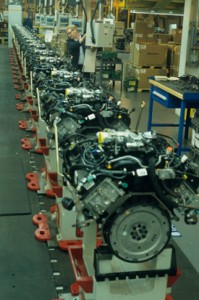 Manufacturers rely on equipment and operators to make high-quality products and to maintain efficient processes. Operator error can mean equipment performing below its capacity; and ineffective equipment can slow down or even endanger operators.
Jason Barringer, territory manager for Richard Greene Company, recognizes this balance. Like all of our representatives, Barringer takes the time to consult closely with customers and learn the nuances of their operations, including how people and machines interact. This depth of understanding helps Richard Green Company to design custom solutions that deliver the right equipment to the people who need it. In one recent case, Barringer helped a manufacturer of automotive fuel pumps and fuel-delivery systems implement a lighting system that improved both productivity and worker safety.
Painstaking processes
For this Illinois company, precision assembly is important. Detailed line work is followed by multiple quality checks — both of which require adequate lighting.
"All kinds of checks have to be done to make sure that numerous pieces and parts are installed properly," Barringer explains. "They've got it broken down into work cells; targeted lighting brightens each area so that they can see that the product is put together properly."
But brightening the area was only one step in the improvements. The company's engineers had been considering ways to improve processes with an accomplishment in mind, but didn't know which equipment could help them reach their objective.
This work is repetitive and painstaking. Production involves multiple steps and many parts that must be manually assembled in the correct order and placed precisely before being mechanically finished.
"They needed a way for operators to take more ownership of the production line and product quality," says Barringer. "They knew where they wanted to go; we helped by testing and suggesting equipment, and by adjusting the equipment after testing."
Shining a light on precision
The key to the puzzle was a new, colored indicator lighting solution. In the line, assembly steps are separated, taking place in a variety of work cells. Operators were using a push-button system to indicate the completion of steps and to track the progress of products through the line. To speed this process while improving safety and reducing errors, Barringer suggested new lighting equipment from Banner Engineering.
After examining the processes and consulting with engineers, Barringer brought in these Banner lighting products for testing:
K50 indicator lights: This 50-mm, general-purpose indicator is easy to install and provides a visual indicator to guide operators. They're self-contained, available in AC or DC voltage, and can display as many as three colors.
WLB32 LED work lights: These LED bar lights provide steady, uniform output that eliminates glare and can provide cost savings through more efficient energy output and reduced maintenance expenses. Operators can customize light levels of this shatterproof, easy-to-install light.
WL50-2 LED lights: These LEDs are designed specifically for enclosures like the ones used by this client. They provide even illumination, without shadows, for a large area.
Previously, operators placed parts such as grommets or filters, then pushed a button to signal that the operators' hands were out of the way and the parts were ready to be mechanically press-fitted. However, the button could be triggered by anything that pushed against it, which could move production forward accidentally and damage parts or harm operators.
The new system uses a sensor that measures dialectics in the operator's hand, so no inanimate object can set off the signal. When the indicator lights up, workers can be guaranteed that all operators are out of the way and the next step can proceed.
Aside from helping to guarantee safety, the new lighting improves efficiency and product quality. Manufacturing moves more quickly now that operators have less worry about injury or error.
Aside from the indicator lights, the LED lighting has made the various workstations brighter. Workers can see issues more easily and spend less time trying to place parts because they can see the work area more clearly.
Banner sample program
Barringer worked with Banner to implement the lighting solution under Banner's Sample Program. With this program, customers can try different products to find the right solution before rolling out a full-scale investment.
As part of this process, Barringer worked with the customer's engineers to figure out which type of touch pad was needed by assembling a variety of possible product solutions. Barringer then worked with the customer engineers to measure the efficiency of the sample solution. They measured the timing of calls for parts, the amount of product produced per hour, and the number of problematic or imperfect parts.
The results? Improper manufacturing issues have decreased. Operator investment in the process has increased. Application issues have been corrected. The new system is wireless — connecting wirelessly to the PLC — so there are no cables or wires to navigate. The company is now moving forward with the next steps toward further improvement.
Being methodical and taking improvements one step at a time lets companies maintain budget, determine the most effective solutions, and ensure a good ROI. Richard Greene Company aims to work with clients to figure out those solutions and implement them quickly and at a reasonable and manageable cost.
Learn more about the variety of LED lighting solutions – and how they can improve your process at many levels. Call us at 800-525-4039, email us at sales@rgreene.com, or visit our website.