"If it ain't broke, don't fix it."
This advice might work in some situations, but it's rarely a good idea when you sell a high-value product. That was certainly the case for K-Ter Imagineering, a design and manufacturing firm that provides custom equipment and machines. Fortunately, Richard Greene Company was able to help K-Ter update an important piece of one of its most innovative products: a fully automated vinyl siding packaging system.
Overhaul needed 
The packaging system, which K-Ter designed, automates the entire product inspection and packing process. The system
counts and stacks siding panels,
places stacks in boxes,
closes, seals, and labels boxes,
stacks boxes and places them on pallets, and
detects and removes defective pieces and panels.
The system is fully automated and guarded for operator safety. Able to pack and palletize up to 60 boxes per hour, this labor-saving system can be changed over to a new packing pattern in as little as 10 minutes. Its modular design and multiple features make it easy and safe to use and maintain.
K-Ter Imagineering's customers had enjoyed the benefits of the automated palletizer for many years, but the control interface on the decade-and-a-half-old design had become obsolete. Plus, changes in technology meant that even well-functioning controllers in the original design we
re outdated. K-Ter needed to upgrade the system to be able to offer their customers new features compatible with the information age we live in today.
Re-engineering the system
K-Ter turned to Richard Greene — which had been a K-Ter partner in the initial design of the machine — to assist with the upgrade. As part of the retrofit process, Richard Greene provided a new controller for bench testing as well as the original controller for use in the redesign effort.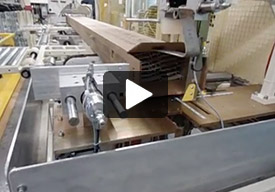 The K-Ter system upgrade required re-engineering the entire control system, explains Richard Greene Territory Manager Doug Lybarger. "When a platform goes away, there's more involved than simply swapping out parts," says Lybarger. "For example, there might be workarounds used in the old system that were required with a limited instruction set. Without the older parts to refer to, developing for a new system can be tough. K-Ter appreciated that we could provide both the old and new controls, as well as the necessary information to ensure compatibility and help with migration."
K-Ter set about updating the human-machine interface (HMI), which allows the operator to select a pattern for stacking the pallet, to prevent crushing or unbalancing boxes. Other parts that had to be updated or added included sensors for detecting the presence of boxes, safety light curtains, and an Ethernet switch.
"The newer style includes a graphical touch screen and is more of a PC-based solution rather than a character-based system," says Lybarger. "The update makes it easier for operator end users. We also discussed other options, such as PLC control and motion platforms, but K-Ter's final choice was the cleanest. It has a similar programming design to the original system, which helps to lessen the learning curve for existing operators."
With Richard Greene's help, K-Ter designers set up the older platform so that they could go through and readapt themselves to its ins and outs. They then redesigned the packaging system around the new software and equipment.
"Things have gone quite well," Lybarger says. "The new platform has been in use for about two years. K-Ter has installed several systems and has several more in the works. The company offers retrofit packages for existing customers."
The new interface features a touch-screen GUI and brings fresh functionality and features such as remote access, OEE capability, and recipe handling. Further expansions are possible thanks to the modular design of the system, so Richard Greene can work with K-Ter as future additions are required.
Learn more about Richard Greene's modular product lines and design assistance.
Call us at 800-525-4039 or email us at sales@rgreene.com.