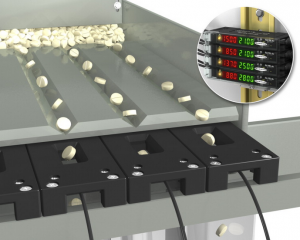 Some manufacturers are all about big ideas … and we love that! But we also understand that for some manufacturers, big ideas come in small packages.
Take pharmaceuticals. Products such as tablets and capsules are tiny but must be accurately counted and properly separated. Dispensing mechanisms, which properly sort and separate tablets, work at high speeds. To meet these big demands, you need an equally high-speed, high-accuracy small-object counting sensor.
Banner's DF-G2 Small Object Counter is ideal for the job. The DF-G2 is a fiber amplifier with a fast response speed; it can detect extremely small sizes — for example, tablets and pills of just 3 mm. As each tablet falls into a bottle, output is sent to the DF-G2 amplifier, which keeps count of the tablets.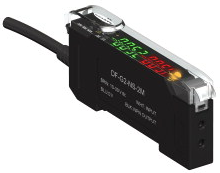 The DF-G2's automatic gain compensation allows it to maintain accurate counts even in dusty environments. The solution's Automatic Gain Compensation (AGC) algorithm compensates for dust on the fiber optics to maintain accuracy.
Its unique firmware allows it to achieve accurate, high-speed, low-contrast performance. The optional totalizer can be set from 1 to 1,000 and automatically resets when the specified count total is reached. An Intelligent Dynamic Event Stretcher (DES) minimizes the chance of double-counting.
Easy-to-read dual digital displays, a rocker switch for setting sensitivity, and a simple interface for intuitive programming make it a snap to set a variety of TEACH and SET methods. And ECO (economy) display mode reduces amplifier power consumption by 25 percent, saving energy and money.
---
Answer to last issue's question:
A video game console (or even multiple!) is a standard fixture in many American homes. But who invented it first?
When we think of video games today, we think of companies such as Nintendo and we might associate game development with overseas creators.
But video games are a distinctly American innovation!
The video game box was patented in 1971 by Ralph H. Baer. The German-born Baer immigrated to the United States in 1938, and served in army in WWII. After the war, he studied the newly emerging technology of television, eventually working as an engineer for defense contracting company Sanders Associates.
In 1966, Baer conceived the idea of connecting an electronic box to a television set to allow people to play action-oriented games. With the support of his employer, Baer developed several prototypes of his "Brown Box," and in 1971, Baer and Sanders filed the patent for the first video game console.
Magnavox licensed the Brown Box and sold the system as the Odyssey, a breakthrough product that sold hundreds of thousands of units. Atari (also an American company), became an Odyssey licensee after losing a copyright infringement case after the release of its game, Pong.
Ralph Baer held more than 150 patents for his inventions, which included the memorable hand-held electronic game Simon.
Source: NPR
http://www.cpr.org/news/npr-story/inventor-ralph-baer-father-video-games-dies-92