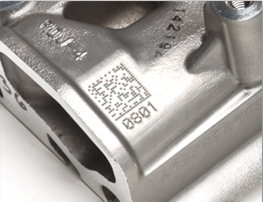 Twenty years ago, International Data Matrix (I.D. Matrix), a forerunner of barcode system provider Microscan, created something small yet mighty: the two-dimensional Data Matrix symbol. Better known as the 2D barcode, this tiny symbol can hold thousands of characters of data, making it the standard for automated-tracking in a breadth of industries.
For years, the 2D barcode has improved our capacity for tracking products and storing data. Now, further innovation makes it easier to ensure the quality of those barcodes.
How 2D is different
Barcoding technology has long been employed for data encoding and tracking. However, an increase in the amount and complexity of that data presented a problem. Barcodes became limited by size, taking up too much space and creating problems with scanners.
2D symbols aren't read by a scanner. Instead, camera-based imagers are used to read the data, which is encoded on both x and y axes instead of purely horizontally.
Furthermore, the symbols can be printed or pressed on a variety of materials, including metal. Less contrast is needed to read a 2D barcode, so it can stand up to dirt, paint, and other materials that would make horizontal barcodes illegible. Scratches and other damage — even when it obscures around 20% of the symbol — can be successfully circumvented, thanks to provisions for encoding error detection and correction.
Why 2D is better
The 2D barcode made it possible to fit an incredible amount of information — approximately 3,000 characters — into a 2.5 mm square. Such data is vital for providing parts traceability and visibility into today's electronics and other manufactured goods. Companies can use Dot Matrix code to trace parts to a particular assembly line or date, time, and place of origin; saving potentially vast amounts of time and money should a part need to be located or recalled.
The barcodes are also useful in automated clinical applications, such as sample testing. By storing precise and complex information such as patient data and testing instructions, the codes can help to confirm correct testing as well as increased safety and privacy.
2D codes printed or stamped directly on packaging can easily be matched to codes on supplemental labeling, helping to verify proper packaging and content. For example, a 2D code stamp on a can of vegetables can be matched to the corresponding code on the paper label, helping to ensure that the right label is applied to the can.
Advantages such as these are a few of the reasons that unique identification (UID) has become a standard for industries ranging from manufacturing and supply chain operations to medical and food production, and why the U.S. Department of Defense mandates the inclusion of a 2D code on all government-furnished equipment.
An added layer of protection
Clearly, 2D barcoding has vastly improved product tracking and traceability. However, that isn't to say that errors can't (or don't) occur. Fortunately, Microscan offers verification monitoring interface (VMI) software that makes it easy to confirm that barcodes are accurate and readable, before an error can cause problems.
The Microscan VMI software was developed to monitor barcode quality on parts, labels, and packaging. By providing a custom window in Microscan's AutoVISION machine software, VMI allows you to visualize the results of ISO barcode quality verification and changes in quality over time. You can set alarms or trigger actions based on quality and degradation of the printing system, such as when jammed print heads or low ink occurs. You can also review historic verification information and images and even grade 1D barcodes against ISO 15416 parameters.
If you're using a 2D barcoding system — and it's likely that you are — VMI can offer additional assurance that your codes and coding system are operating at their best. Richard Greene can help you to implement your coding and assurance systems from start to finish.
Learn how Richard Greene can help you implement a barcoding system for your complex process! Contact the experts at Richard Greene Company by phone at 800-525-4039, by email at sales@rgreene.com, or on our website to find out more about 2D barcoding and VMI software solutions.