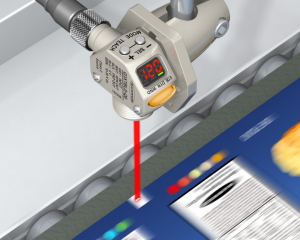 Precision is one of many essential factors in assembly lines. Now, two new Banner sensors bring a whole new meaning to the term.
Consistent quality is vital in most industries, from food and beverage to pharmaceuticals to automotive. That's why these laser sensors are built to Banner standards, with durable construction (including scratch-resistant lenses, tactile buttons, and stainless steel parts), angled displays, and superior accuracy.
Which sensor is right for you? It depends on your application.
Q4X Sensor: Go the distance
The Q4X is a distance sensor, with the ability to differentiate the precise placement of items that other sensors have a tough time even seeing — such as black on black or shiny metal backgrounds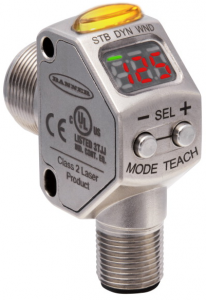 This sensor is up for nearly any challenge. It provides high-speed part detection, capturing up to 2,000 events per second. It can detect small contrast changes in a range of 25 to 300 mm. It features superior ambient light immunity. And the Q4X has bipolar PNP and NPN outputs. You can find more information here, and be sure to watch these videos to get a sense of what makes the Q4X special.
Q3X Sensor: Verify contrast
Also versatile and rugged, the Q3X is a laser contrast sensor. It provides reliable, high-speed detection of up to 250 μs, capturing up to 2,000 events per second. With a sensing range of up to 300 mm, this sensor is perfect for challenging presence or absence, or for orientation detection in applications with small contrast differences. You can use the fixed background-suppression model to detect contrast in a fixed range while ignoring a background. Verify minute placements of low-contrast items at high speeds with this sensor. Learn more about the Q3X sensor and see it in action.
We're proud to supply the products you needs from our friends at Banner. Contact the experts at Richard Greene Company by phone at 800-525-4039, by email at sales@rgreene.com, or on our website.